The gently curving form of the Rosewood was inspired by the glistening Arabian Gulf and the vast desert that surrounds Abu Dhabi city.
Located in Abu Dhabi's new Al Maryah Island financial district between the Abu Dhabi Securities Exchange and the Cleveland Clinic, the Rosewood is a 1.1M sq. ft. (100,750 SM) luxury mixed-use hotel and residential project. The 36-story building is clad in reflective glass, selected for its daytime shimmer and its nighttime luminescence. The Rosewood includes 189 hotel keys, 137 serviced apartments, banquet facilities, meeting facilities, spa, fitness center, retail space, parking, eight restaurants, and also designed to connect directly to the neighboring up-scale Galleria Shopping Mall.

The swooping form of the Rosewood's tower marks the building's presence on the skyline. Positioned as a "gateway" to Al Maryah Island, its curvilinear form ties the architecture of the surrounding contrasting rectilinear buildings (all new buildings as well) together and balances out the adjacent straight lines. Glass systems allowed flexibility to create the dynamic forms, lines and textures via operative placement of bent glass and "twisted glass" wall panels with integral refined sunshades and fins. Low-E coatings within vision and spandrel units alike offer seamless contours while reflecting solar radiation. Twisting contours were achieved via an adjustable edge anchor and flexible gaskets which allow slightly out-of-plane panels relative to the adjacent unit, creating a scaling, sculpted effect, while maintaining an airtight and watertight seal. Aluminum sunshades, horizontal and vertical, evoke movement and establish complementary textures. During the evening, subtle LED lighting incorporated within the operative sunshades reinforces the texture.
The building podium is composed of limestone and decorative glass panels that provide shading relief while also offering accent, translucency, and light from within. The main lobby lounge features dramatic 29-foot (9M) tall structural glass fins that enhance the floor-to-ceiling panoramic views of the water and the vibrant city beyond. The glass fins, supported from top curving steel beams, are detailed to allow movement and to stabilize transoms which in turn transfer the wall's dead load via steel rods. Overlooking the lounge, glass walls and modern decorative wood screens recall traditional Arabic mashrabiaya screens which provide privacy while bringing in daylight and views to the interior circulation spaces.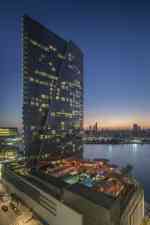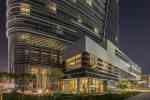 The pool deck features canopy-like metal structures, termed "Globrellas" providing shade to guests and creating a sense of intimacy.
The Globrellas visually screen portions of the surrounding buildings; the perforated pattern within their panels allow sunlight to filter through and create patterns on the pool deck. The pattern was derived from a local market's textile, with dimensions expanded to afford an aperture that would allow just enough light to pass through to express the pattern but still provide shade.