Dream Downtown Hotel Interiors
The interiors at the Dream Downtown were meant to evoke an otherworldly feel.
Dream Downtown Hotel is a 184,000 sq. ft. boutique hotel in the Chelsea neighborhood of New York City. The 12-story building includes 316 guestrooms, two restaurants, rooftop and VIP lounges, outdoor pool and pool bar, a gym, event space, and ground floor retail.
The original through block building offered limited possibilities for natural light, so four floors were removed from the center of the building, creating a new pool terrace and beach along with new windows and balconies for guestrooms, two new floors of guestrooms on the south, and a glass enclosed roof top lounge & terrace on the north with sliding exterior walls blurring the boundaries of inside and out. The glass bottom pool, dotted with portholes of its own, allows guests in the lobby glimpses through the water to the outside (and vice versa), and connects the spaces in an ethereal way. Light wells framed in teak between the lobby, pool and lower levels allow the guest to be transported between spaces. Two hundred hand blown glass globes float through the lobby and congregate over The Marble Lane restaurant filling the space with a magical light cloud.
The bar is carved out of the teak wood walls, and is backed with an amber mirror and enclosed with a circular patterned glass block and blackened steel plate drink rail. The surrounding banquet walls of the dining room are upholstered with the same perforated black leather that Ferrari uses; the custom pattern replicates the building's façade for a modern play on the classic technique "Capitonné".
Fixtures, furnishings, fabrics and linens were custom designed for the public spaces and guestrooms that carry through the exterior design concept, providing a limitless feeling between inside and out.
Layers of silver, black and white are balanced with warm teak wood; pop colors provide a visual punch.
In the lounge, eight sets of round, silver leather sofas reside below the light shimmering through the water of the glass bottom pool overhead. The sofas are a transformation of the classic Chester style; each set contains a semi-circular sofa, a round ottoman and two quarter-round benches that are modular and can be reconfigured to suit various events. 4 sets of 9 etchings by Anish Kapoor (artist of Sky Mirror): Shadow I, Shadow II, Shadow III and Horizon Shadow accent the overall natural palette with bright color and frame the lobby/restaurant space.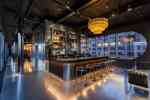 Handel Architects' design for the Dream Downtown Hotel retains the spirit of Albert Ledner's 1966 building.