Interior Design
Interiors are the soul of a building. They bring an architectural project to life, provide comfort, richness, sophistication, elegance, and a timeless quality. 
The selection of materials, as well as excellent craftsmanship and details - and a deep sense of history and context – is important, and is where we spend our time. These elements are what bring character to our interiors and allow us to elevate the design of the projects we work on.
Services we offer
Programming and space planning
Amenity and public space design
Selection and detailing of all finishes
Selection and sourcing of all furnishings, drapery, lighting, etc.
Design and detailing of custom contract furniture packages
Making a House a Home
Our residential lobbies are crafted to create a sense of oasis and welcome: people want a feeling of "coming home" when they walk through the front door. Amenity spaces, often the drivers of community engagement within a building, require precise programming in order to support the lifestyles of the target demographic. Health and wellness facilities can be a major driver to potential residents, and the creation of this experience involves knowledgeable programming, careful layout of spaces, and a selection of materials that allow residents to feel a visceral connection.
All of these spaces take a collection of apartments and make them into something greater: a community with a sense of place.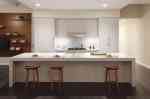 Residences
We are fortunate to be working in a period where both traditional and modern design vernaculars can be sourced as inspiration to give depth and a sense of timelessness to residential units. We select unit finishes to reflect a specific time and place for each project, with a keen eye toward durability and cost. 
Hospitality
Our hospitality interiors approach aims to redefine the guest experience and provide unique market identity.  We understand the primacy of the guest experience, from the arrival sequence to guestroom details.
Branding
Our Interiors work has been widely published in top-line design publications in the U.S. and overseas. Handel Interiors-designed spaces have brand name recognition in the marketplace, driving sales in a quantifiable way and directly impacting the bottom line for our clients.
"The details are not the details. They make the design."
Charles Eames