One Blue Slip Interiors, Greenpoint Landing
The residences at 1 Blue Slip are light and airy with exposed wood and divided-light windows.
One Blue Slip is a new residential tower on the East River, and includes 349 rental units. Amenities include a game room, media room, bar, lounge, playroom, co-working space, fitness center with yoga room, and a 7,000 sq.ft. exterior deck with an outdoor kitchen.

One Blue Slip is rectangular in form, and serrated along the wide north and south faces in order to create views and give depth to the facades. The design is created by the articulations of the building's massing, the zigzag windows which emerge from a series of tall, rhythmic brick piers. Divided-light windows in painted black metal give the building an industrial feel, while redbrick masonry piers split the glass systems up and sharpen the look of the serrations. Capping the tower proper is a glassy angular penthouse.
One Blue Slip is LEED Silver.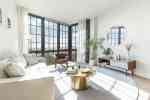 One Blue Slip is composed of interlocking volumes of brick and glass, angled toward the Manhattan skyline.