Pier 57 was transformed into a dynamic mixed-use destination that includes office space for Google and a new public park.
Originally designed by American architect and civil engineer Emil Praeger in the early 1950's, Pier 57 was the largest dock ever built by the City of New York. It was completed in 1954, built by the New York City Marine and Aviation Department. The pier served as a shipping terminal for a number of years before succumbing to the decline in the city's maritime industry. It served as a parking garage for the city's buses for three decades, and had been vacant since 2003. In 2004 it was listed on the National Register of Historic Places.
In 2011 a team was engaged to lead the renovation and restoration of the pier into a new mixed-use destination, and it now includes 320,000 sq. ft. of office space, two performance venues, and a 100-seat capacity restaurant and tasting room. Retail anchors the ground floor, and the rooftop has been transformed into an 80,000 sq. ft. public park with an outdoor screening venue.
Historic Drawings & Photos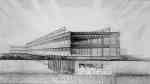 Existing Condition
The team turned the variety of challenges with an existing historic structure into design opportunities.
Two new floors were added within the existing structure. Angled windows were designed to enclose the monumental openings - previously used for loading and unloading freight - that lined the north and south facades. A new landscaped rooftop was added, including a central glass pavilion that takes advantage of the sweeping views of the city.
Angled curtainwall was added within each opening, designed to have the same monumental feel as the existing doors.
In order to deal with the 18' x 21' angled telescoping doors that line the north and south facades, the team developed a pattern in the façade for the telescoping doors (some open, closed, or half open) to mimic the look of the Pier when it was operating as a shipping terminal.
On the rooftop, a grand Pavilion acts as the terminus of a public stair from the ground floor up to the park level.
The façade of the pavilion is made of channel glass, which helps the structure glow as a gem within the park, while a sliding wall opens up to bring the park into the building. Pavilion theater seating unfolds to the east, providing a resting place with views to the north, east, and south. Below, a grass park is dotted with playful circles that act as skylights for the interior spaces underneath.