Rowan's concrete exoskeleton is a nod to the nearby shipbuilding and container cranes on the city's waterfront.
The goal for Rowan was to strike a chord of continuity with the industrial past of the Potrero and Mission neighborhoods and celebrate their urban, transit-oriented future. The neighborhood has been shaped by industry, ranging from the first iron production of Pacific Rolling Mills, to the ship and submarine building efforts through two world wars. A sense of place is defined by the mixture of sunny hillside residential blocks and industrial remnants on broad avenues.
Rowan's identity is formed by the exposed structural concrete columns that form an exoskeleton, reminiscent of the shipbuilding and container cranes that still exist on the city's waterfront. These columns rise from the third floor and fan out to form six-story V's across the length of the building. The structure is pulled away from the glass, allowing residents to step out onto Juliet balconies. The largely column-free interiors allow clear internal layouts with uninterrupted glass.
On the north and south ends of the building, solid concrete walls act as bookends, and are scored and patterned to appear as multiple layers, connecting at various points to both the diagonal columns and the exposed floor slabs. A rooftop facing adjacent Franklin Park features a common planted terrace.
Conceptual Approach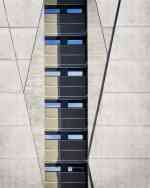 Interiors continue the industrial theme, yet offer a transition to "home" by adding materials that celebrate nature and handcraft.
The lobby features hand-worked cement plaster, patterned and scored cement, woven wire drapery, natural wood planks, and a contemporary handmade wood chandelier.
Units are arranged in a free plan layout, with the living spaces organized around a central core.